With powdery white sand, turquoise waters, and spectacular views, the Cayman Islands offers beachfront living like no other. Whether you're looking for Seven Mile beach condos for sale or thinking of ways to decorate your new home, this article will help you envision your new life on this island paradise. 
Seven Mile Beach is a magazine-worthy travel destination with a long stretch of sand and luxury real estate developments in one of the most beautiful places on earth. Located on the western shore of Grand Cayman, this Caribbean getaway offers a wide range of accommodations, including hotel suites and resort villas. Sun-seekers who want to live on the island either seasonally or permanently can choose from an excellent selection of Seven Mile beach condos for sale. 
An Overview of the Luxury Condo Market in Seven Mile Beach
Seven Mile Beach real estate commands some of the highest properties in the Cayman Islands. Its beachfront location and proximity to shops, restaurants, and local attractions make it the obvious choice for buyers who want to live the ultimate vacation lifestyle. The housing market also presents many opportunities for real estate investors due to the steady flow of tourists and snowbirds.  
Seven Mile beach condos for sale offer maintenance-free living in an exclusive setting. There are several condo developments with lavish residences, first-rate amenities, and concierge-style service for those who enjoy the finer things in life.
Best of all, the process of buying and owning real estate as a foreign national in the Cayman Islands is fairly straightforward. There are virtually no property taxes or restrictions on foreign ownership by private individuals in the islands. Buyers only need to pay stamp duty on all real estate purchases and transfers. 
TIPS FOR DECORATING YOUR LUXURY CONDO IN SEVEN MILE BEACH
Once you've found a condo that meets your expectations, you can decorate it to your tastes and preferences. Whether you're entertaining guests for the weekend or simply trying to make your home feel more personal, here are some general tips for decorating your home: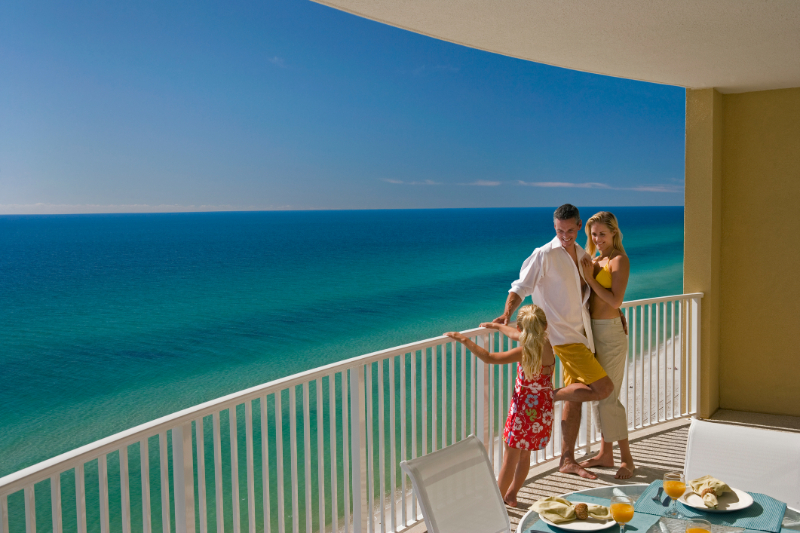 Choose a theme
If you're struggling to come up with ideas, consider setting a theme. You can also have different themes or motifs for each room depending on the story that you want to tell. The key to making thematic decor work is to make sure that there is cohesion throughout. There are many themes and motifs that go well with Seven Beach Mile's oceanfront setting:
Classic nautical – The classic nautical theme draws inspiration from sailing and maritime traditions with colors like white and navy blue as well as stripes and natural rope accents. Consider incorporating maritime elements such as anchors, compasses, ship wheels, and wind sails as decorative items. You don't need to give these maritime elements a literal interpretation – there might be a more subtle or modern way of including them in the decor. As a theme, the classic nautical style can give your condo a timeless and sophisticated feel.
Rustic nautical – This theme gives your condo a more lived-in feel with the use of natural and organic materials like jute, sisal, burlap, seashells, and reclaimed wood. As with the classic nautical theme, incorporate maritime items like buoys, maps, and metal lanterns to the decor or consider a more modern and elegant interpretation of these items. Lastly, why not tasteful driftwood sculptures and similar nautical-themed artworks?
Tropical chic – Bring the lush and vibrant atmosphere of a tropical paradise into your condo with bold and electrifying colors like lime green, bright yellow, tangerine, and coral. Add some elegant rattan furniture as well as rugs and throw pillows with tropical floral prints and palm leaf patterns. You can also decorate with potted plants and flowers that are native to the Cayman Islands for a more authentic feel. This theme gives your living space a vibrant and lively energy.
Minimalist modern – Less is more when it comes to minimalist modern. Stick with a soft color palette with neutrals, pastels, and pops of ocean-inspired shades like turquoise. Bring in some sleek furniture with clean lines. Contemporary and Mid-Century Modern furniture work well with this theme. 
Add ocean-themed artwork and sculptural elements inspired by the beach, water, or marine life. Combine natural fabrics like cotton and linen with metallic accents for a chic and refined look.
You may also combine two themes for the whole space or use a separate theme for each room. It would be ideal to choose two motifs or styles that complement each other. This can help keep your decor from looking forced or repetitive. However, it is best to limit it to two styles to avoid a space that feels too busy or disparate.
Finding the point of cohesion can be difficult when selecting a theme for each room. However, this can be something as simple as using the same primary or accent color for each room. Further, the colors in each room should complement each other, even if the themes and motifs are vastly different. Certain colors can clash and make your condo feel less luxurious.
For example, classic and rustic nautical can work well together depending on the pieces, materials, and colors you decide to use for each room. As a general rule, choose a dominant theme and bring it to the forefront while having a secondary theme that will remain in the background or the less prominent areas of the condo.
Choose the right paint colors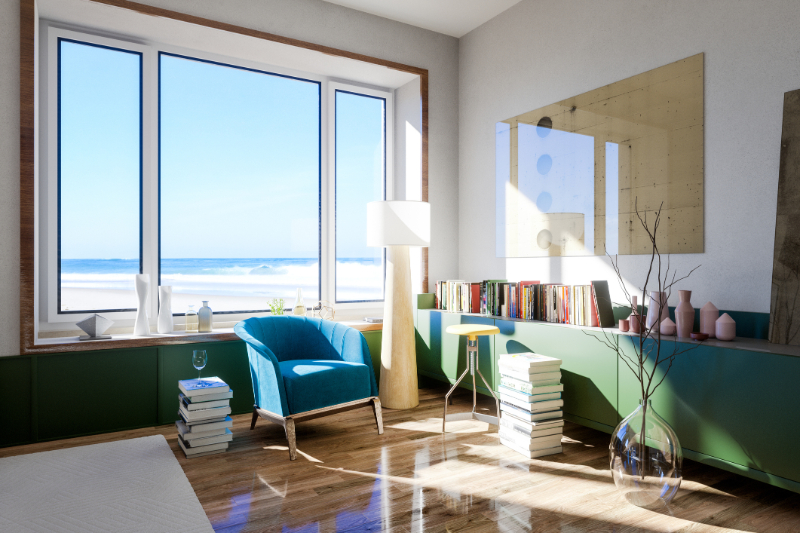 Your choice of paint color has a large impact on the look and feel of your condo. Certain color combinations can make or break the atmosphere – that's why it's important to choose the right colors for your home. When picking out colors for your luxury condo, revisit the design theme. Whether it's classic, minimalist, rustic, or eclectic, choose paint colors that complement the theme and help set the tone for your decor and furnishings.  
It also helps to keep in mind that natural and artificial light sources can affect how we perceive color in a room. Observe how much light enters the room. Plenty of natural light can potentially make lighter shades appear warmer and more inviting while muted colors and deeper hues may be more appropriate for darker areas. Trust your eyes while flipping through color swatches inside the room – those paper strips and cardstock samples will help you determine how a certain shade might register under lighting. 
In addition to light, sheen or finish can affect the way color is perceived. Satin or semi-glossy finishes can add a touch of elegance. These paint finishes are perfect for highlighting cabinets, rails, and door and window frames. Since satin finishes are easier to clean, they are often used for high-traffic areas such as the kitchen. Matte paint, on the other hand, can appear more flat and austere. It can also be difficult to clean so it is best used for ceilings and low-traffic areas.  
In general, it is advisable to use a neutral color as a sophisticated base for your luxury condo.
Neutral shades like eggshell white, warm beige, cream, and light gray can serve as an elegant backdrop for other design elements. Once you have a neutral base, you can add depth, drama, or visual contrast with accent colors for specific areas. 
Darker colors can make a room look appear smaller while lighter shades can open up the space. Bohemian shades and earth tones like sapphire, amethyst, and bronze can help make a room feel more opulent while metallic accents like silver can make it feel more modern. Adding pops of color here and there can help break up the monotony of a neutral palette. 
If you're hesitant about a certain hue or shade, apply sample swatches to small areas on different walls within the condo. Observe how the paint colors look under various lighting conditions and during different times of the day. This will give you a better idea of how a color might register on your interior walls without committing to a full paint job right away. 
Combine texture and patterns
Layering different fabrics, prints, and patterns will help you create visual interest in your space. A mix of smooth, glossy, natural, and distressed surfaces can make a room feel more dynamic whereas having a single texture throughout can make the space appear sterile. When done right, combining different  elements can add depth and personality to the room. 
There are many ways to introduce textures and patterns to a room. Addings rugs, curtains, throw pillows, lamp covers, and art pieces can help you convey different textures and patterns without committing to larger pieces of furniture or textured paint.
When combining different textures and patterns, strike a balance between simple and complex designs. Too much of a certain print or fabric can make your luxury condo appear overwhelming. In general, louder patterns or bolder textures can dominate a space while small and subtle patterns can help accentuate certain areas. Choose complementary textures to maintain balance. For example, try pairing velvet upholstery with a smooth marble coffee table or a rustic wooden table with a ceramic tile tabletop.
The same goes for patterns. Mixing patterns can bring energy to a room. However, layering too many patterns can make your space appear chaotic. To prevent this, choose patterns with a similar theme or color. You can also try pairing large patterns with bold colors, and so on. As a general tip, Hudson & Crane suggests that at least 40% of the space should be made up of solid color to keep patterns from taking over the room.
Choose the right lighting fixtures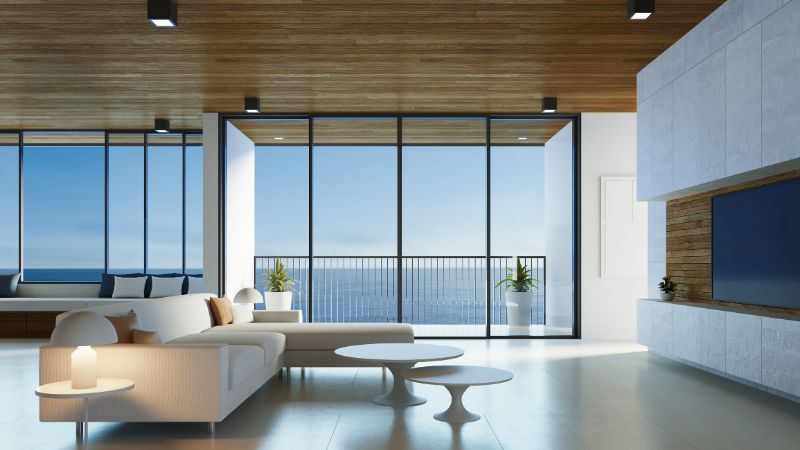 Even though most oceanfront condos get plenty of natural light, it is still possible for certain nooks, corners, and interior rooms to be poorly lit. Installing the right lighting fixtures and knowing where to place them can make your condo feel more luxurious. Proper illumination can make small rooms appear larger and brighter while dim lighting can create a more relaxed and intimate atmosphere.
To begin, assess the lighting needs of every room. Consider what these areas are typically used for and what activities take place in each space, such as reading in the bedroom, cooking in the kitchen, and entertaining friends and family in the balcony. Different rooms will require different types of lighting solutions, whether task lighting or ambient lighting.
In general, it is advisable to use layered lighting, which combines different types of lighting solutions to achieve a functional and versatile lighting scheme. For example, you may install a combination of overhead, task, and accent lighting for flexibility and ambience. Sconces that complement overhead lighting can help create a well-lit and welcoming space while incandescent lighting can add a decorative touch and set the mood for the room
It is also important to take the size of the room and the height of the ceiling into consideration when choosing and installing lighting fixtures. Chandeliers and pendant lights may work for rooms with higher ceilings while recessed lighting and compact fixtures might be better for smaller spaces.
Consider installing dimmer switches in rooms where you need more control over the brightness, temperature, and intensity of your lighting. A dimmer switch will allow you to adjust lighting based on the mood or activity. Investing in smart lighting systems can make it easier and more convenient to control your condo lighting through voice commands or smartphone apps.
When it comes to design, there are many materials and finishes to help you convey different themes. If you have a modern theme, choose sleek fixtures with metallic, chrome, or matte finishes. If you have a more rustic or environmental theme, go for rattan lamps and rustic lighting fixtures with a burnished finish. Staying consistent with your design choice will help you maintain cohesion.
Choose the right accessories
As with lighting fixtures and windows, mirrors can add luminosity to your luxury condo and create the illusion of a larger and more open space. Mirrors can also be a decorative element depending on their design and framing. For cohesion, choose mirrors that match your overall design theme. When deciding when to place a mirror, take the size and scale of the mirror in relation to the space. Many interior designers choose to place mirrors near the front door, along the hallway, or above the fireplace. 
Rugs can also make the perfect addition to your luxury condo. Rugs can bring warmth and character to a space depending on their size, color, pattern, and texture. A fluffy rug can make the bedroom feel more comfortable while a geometric print rug can serve as an accent piece in a room. Since rugs are available in a wide range of designs and materials, they can complement or add contrast to the overall design theme. 
In addition, rugs can also make a room feel more polished and coordinated. For example, a large floor rug can finish off the overall look of the living room or dining area. It can also help delineate specific areas in an open floor plan, creating a visual marker for the living room or study area.  
TOP CONDO PROPERTIES IN SEVEN MILE BEACH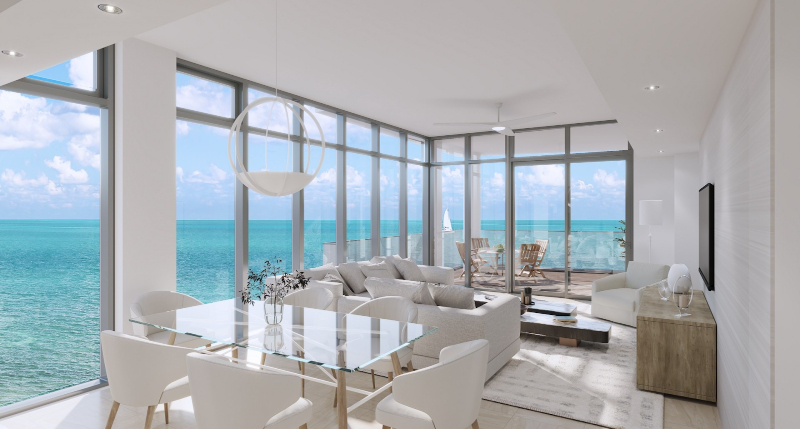 $7,995,000 | 3 bed | 4.5 bath | 4,711 sq ft
As one of the finest Seven Mile beach condos for sale, this two-story Corner Sky Villa Penthouse features high ceilings, glass walls, and premium tiles and flooring. It also has high-end appliances and custom millwork design in the kitchen, bathrooms, and recreational areas. Its primary bedroom suites each have a spa-style bathroom and one has direct access to a spacious terrace. This penthouse also has a dedicated home office, laundry room, and powder room. 
$7,450,000 | 4 bed | 4.5 bath | 3,620 sq ft
Located on the 5th floor of a premium development, this south side corner residence comes with an open concept kitchen, spacious dining area, well-lit living room, and huge balcony with views of the beach and the Caribbean Sea. As one of the most sought-after residences in WaterColours, this unit features premium materials and finishes.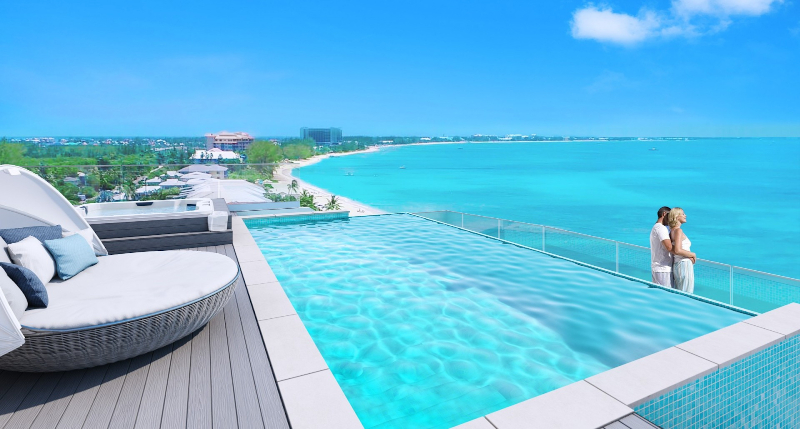 $6,495,000 | 3 bed | 4.5 bath | 4,372 sq ft
This highly coveted Sky Villa offers exclusive access to a rooftop area with an infinity pool, outdoor kitchen, and lounge areas. Its interiors are no less remarkable with floor-to-ceiling glass walls and bespoke millwork. It is truly a private retreat along one of the most beautiful beaches in the Caribbean. 
FIND SEVEN MILE BEACH CONDOS FOR SALE WITH THE BOVELL TEAM
If you're still looking for the perfect condo in Seven Mile Beach, get in touch with The Bovell Team at 1-345-945-4000 or send us an email to get started. Our team provides exceptional service and attentive care for the best results. With over 50 years of combined experience in the Cayman Islands, our team provides access to exclusive listings and professional guidance throughout the buying process. Contact our elite agents to schedule a consultation today.