Enjoy coastal living in a luxury travel destination like no other. Seven Mile Beach real estate offers some of the finest beachfront properties in the western Caribbean Sea. Here's what you need to know about the buying process.
THE CAYMAN ISLANDS AND SEVEN MILE BEACH
The Cayman Islands offers a relaxed but luxurious lifestyle with its white sand beaches, clear blue waters, limestone bluffs, and idyllic tropical setting.  The Conde Nast Traveler Readers' Choice Awards ranked these low-lying islands among "The Best Islands in the World" for their pristine, gently-sloping coastline with mangroves and coral reefs that are home to colorful tropical fish, stingrays, sea turtles, and other marine life. Further inland, the terrain is mostly flat and populated by lush vegetation and tropical forests.
For all its paradisiacal qualities, the Cayman Islands is undoubtedly cosmopolitan and sophisticated. It has a world-class dining and nightlife scene with diverse culinary experiences ranging from seafood shacks and beachside bars to international cuisine and Michelin-starred restaurants. There are also several high-end boutiques, specialty stores and art galleries catering to global clientele.
As a British Overseas Territory, the islands are highly urbanized with investments in smart infrastructure and major redevelopments. The capital, George Town, is a bustling hub for tourism and finance while Seven Mile Beach real estate is highly coveted among international buyers and seasoned investors alike.
Most importantly, Cayman residents enjoy a high quality of life. They have a strong sense of community, celebrating a multitude of festivals and events throughout the year. These celebrations include Batabano Cayman Carnival, Cayman Cookout at The Ritz-Carlton, Pirates Week Festival, and Taste of Cayman.
Demographics
The islands are home to 68,136 as of 2021 with the vast majority living on Grand Cayman. The population swells during peak season from December to February, which coincides with the winter season in the Northern Hemisphere. Cayman Islands welcomed an average of 322, 310 tourists from 1995 until 2021. There were 29,108 expatriates in the islands as of December 2018, based on estimates from the Economics and Statistics Office's Compendium of Vital Statistics.
Summer coincides with the wet months in Cayman Islands and is considered off-season for tourism though temperatures are usually warmer during this time. The tourism and hospitality industries account for 20% to 25% of the GDP. The Owen Roberts International Airport sees more than 25,000 flights each year.
Location
The Cayman Islands are located approximately 180 miles northwest of Jamaica and 480 miles south of Miami. It is made up of three islands, each with its own unique flavor and identity:
Cayman Brac, or the Brac for short, extends for 12 miles along the eastern edge of the Cayman Islands. As the second largest island, it is home to about 2,000 residents. It gets its name from the Gaelic word for "crag" for its defining feature – a limestone bluff with caves and sinkholes, spanning the length of the island.

Known for its unspoiled beaches, the Brac is a popular spot for snorkeling, scuba diving, deep sea fishing, and birdwatching, offering numerous opportunities to observe wildlife both on land and underwater.

The island harbors several attractions, including the Captain Keith Tibbetts Wreck, a 330-foot military frigate that serves as an artificial reef; the Cayman Brac Museum, the oldest museum on the islands with fascinating exhibits on ship building and turtling; and the Cayman Brac Heritage House, a 19th-century Caymanian home that hosts exhibits and cultural programs.

Little Cayman is the smallest of the islands at just 10 square miles and with an estimated population of about 170. It is best known for the Bloody Bay Wall, a submerged mountain range and globally renowned dive site with a drop-off that plunges more than 1,000 meters into the deep ocean. The Wall is also home to an abundance of marine life, including sharks, octopus, barracuda, turtles, and colorful fish.

The island is an excellent spot for bird watching, with cliffs and mangrove forests that attract rare birds such as the purple gallinule. It is also known for having the Western Hemisphere's largest colony of red-footed boobies. In addition to diving and bird watching, Little Cayman offers countless opportunities for snorkeling and kayaking. It also has an array of shops, bars, and restaurants.

Grand Cayman is the largest and perhaps the best known of the islands. Travel + Leisure named it one of the most beautiful Caribbean islands to visit, citing its vibrant waterfront restaurants and bars along Seven Mile Beach, a renowned tropical beach getaway among the jet set. It is also home to the capital, George Town.

Its dive sites attract divers from all over the world. These include the Kittiwake Shipwreck, a sunken U.S. Navy submarine and artificial reef off the island's coast; the Stingray City Sandbar, which gives visitors the rare opportunity to swim with stingrays; and the North Wall, a drop-off that plunges over 600 meters into the abyss.

On land, visitors have access to cultural attractions like the Cayman Islands National Museum, which features exhibits on local history, and the Pedro St. James National Historic Site, an 18th-century plantation house and events venue that sheds light on the island's colonial past.
Neighborhoods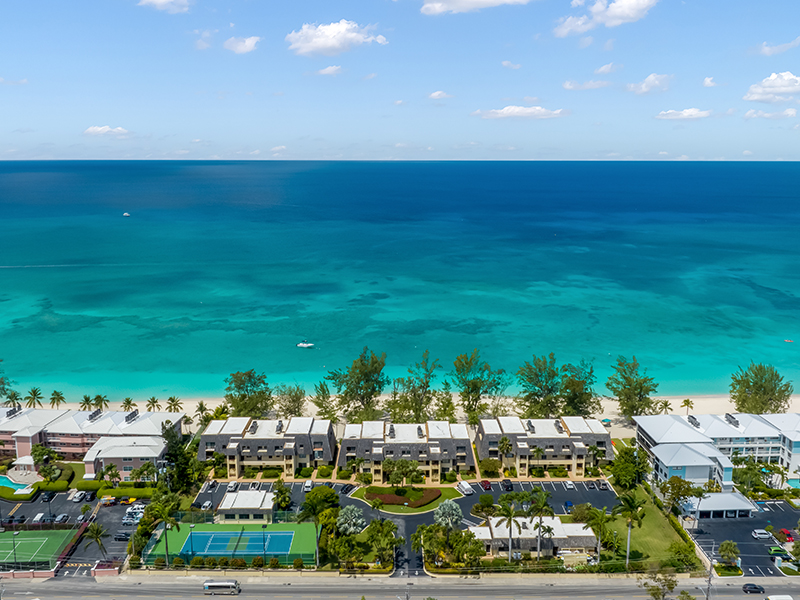 Notable neighborhoods and residential areas in the Cayman Islands include:
Bodden Town & Beach Bay
Camana Bay
Cayman Kai
East End
George Town
North Side
Prospect & Red Bay
Rum Point
Savannah, Lower Valley, Newlands & Pedro St. James
Seven Mile Beach
South Sound
West Bay
Most residential areas and real estate developments are located in Grand Cayman as it has more land area than the other two islands.
Seven Mile Beach: Real estate and lifestyle
Seven Mile Beach is a stretch of pristine white sand along the western coast of Grand Cayman. This crescent-shaped beach is a popular destination for swimming, sunbathing, parasailing, and jet skiing while its bars and restaurants command stunning views of the Caribbean Sea.
Seven Mile Beach is made up of two areas, which include the beach itself and the area across the road from the beach, sometimes referred to as the Seven Mile Beach corridor. Both areas are just steps away from shops, eateries, and nightclubs. They are also located within close proximity to the Camana Bay Town Center, which offers additional retail, dining, and entertainment options.
Seven Mile Beach real estate is primarily known for luxury resorts and condominiums, many of which provide direct beach access. These developments feature upscale amenities such as infinity pools, hot tubs, fitness centers, concierge services, and on-site dining and spa treatments. In addition, there are several apartment complexes that cater to tenants in need of daily, short-term, and long-term rentals in the area.
Despite its growth and popularity, Seven Mile Beach has retained much of its natural beauty.
Highlights include the Cemetery Beach and Reef, a protected area on the southern tip of Seven Mile Beach. The reef is accessible from the beach and is home to stunning coral formations with exotic fish and sea turtles. Governor's Beach is another picturesque spot with white sand and sea grape trees next to the Governor's Home.
Buying real estate in Cayman Islands
Foreigners can lawfully purchase and own Seven Mile Beach real estate with no restrictions, direct taxation, or landholding licenses. However, the home buying process differs slightly for non-citizens, who must meet certain requirements and procedures:
International buyers may be asked to present various documents, such as a police clearance certificate and proof of finances.
All buyers, for the most part, including international buyers must pay stamp duty and transfer fees. Stamp duty is typically 7.5% of the property's market value and is payable upon transfer of a property. It doesn't cover furnishings and other removable items such as blinds and carpets, so make sure that the market value and purchase price have been calculated accurately.
Title transfer and ownership
The transfer of property is a straightforward process in the Cayman Islands, where all properties are registered under a designated block and parcel number at the Land Registry office, ensuring the accuracy of entries and records. As a buyer, you can examine existing public records about any piece of property, allowing you to easily check for liens or outstanding judgments and payments attached to the property.
International buyers can also have peace of mind knowing their real estate investment is secure since the Cayman government guarantees a title for each real estate transaction and right of ownership for each parcel. The title to a given property can be freehold (in which you own the land and existing structures indefinitely) or leasehold (in which you have the right to occupy the property for a limited period).
Planning and development
There is typically no deadline for developing raw land in the Cayman Island unless expressly stated within the covenants for the land purchase. This means that you can hold undeveloped land indefinitely. Should you wish to start building on the land, you can secure the appropriate planning approvals, which are valid for five years after planning permission has been granted.
Rental income and taxation
If you decide to rent out your home, there is usually no tourist tax if you're renting it to Cayman residents. However, if you own more than two rental properties, you will likely need to obtain additional licences. These typically include a trade and business license as well as a local companies control law license.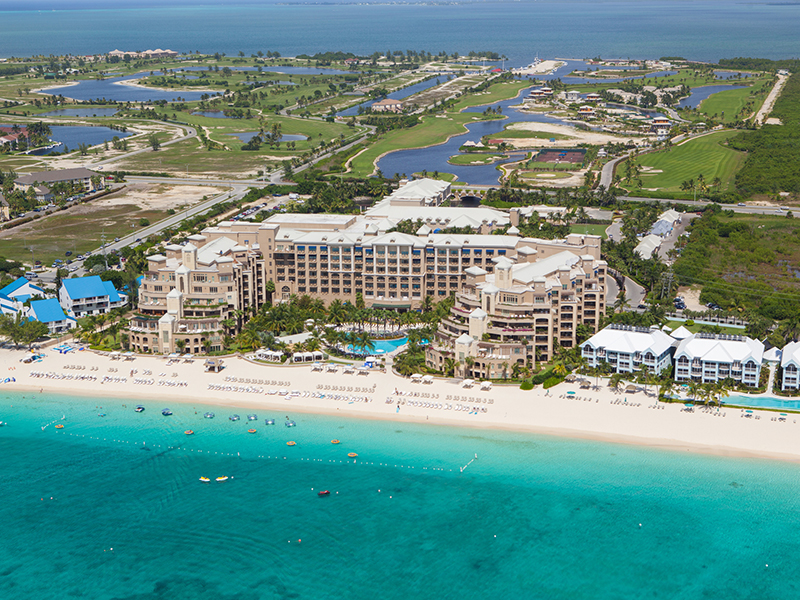 Mortgage application and approval
As a foreign national, you can open bank accounts either as an individual or corporate entity. You can also apply for a home loan. Mortgage rates and terms will differ with each lender.
If you are a Cayman Islands resident under a work permit, lenders are more likely to approve your mortgage application if you have been in the islands for at least six months. You will be asked to meet with a loan officer in order to get pre-approved for a mortgage. You may be eligible for permanent residency with the right to work if you have lived in the islands for eight years or longer, or if you're the spouse or child of a permanent resident.
If you are purchasing property as a United States resident, you can still qualify for a mortgage in Cayman Islands. However, you may be required to make a larger deposit of about 30%.
WHAT TYPE OF PROPERTY BEST SUITS YOU?
Once you understand the requirements and procedures involved in buying Seven Mile Beach real estate, you can start looking for homes that suit your needs. Buyers and renters can choose from an array of upscale condos of varying sizes and layouts. Seven Mile Beach real estate also offers an exclusive selection of single-family homes with gated entrances, manicured lawns, and double garages. The properties in the Seven Mile Beach corridor are often well-maintained and located in quiet areas despite their proximity to the beach and restaurants.
Luxury condo features
There are many luxury condo developments located along Seven Mile Beach. These range from high-rises with unobstructed ocean views and resort-style amenities to boutique communities with tropical landscaping. Many residential units have 2 to 4 bedrooms along with custom finishes, high-end appliances, smart home technology, and plenty of living space. These luxury condos are typically located within gated communities for enhanced privacy and security.
Beachfront homes features
The most coveted properties in Seven Mile Beach are those that provide direct access to the beach, allowing homeowners to enjoy a wide range of water-based activities at their leisure. Depending on the overall design and layout of the building, condos may have private balconies or ground-level patios with walk-out access to the beach or pool deck. Beachfront homes get plenty of natural light and command sweeping sunset and water views.
OTHER CONSIDERATIONS
Safety and security
The Cayman Islands is generally considered safe and low-risk for expats and tourists. Luxury condo developments, in particular, maintain high standards for safety and security. Seven Mile Beach is a world-class travel destination and is widely considered to be one of the safest beaches in the Caribbean.
Political stability
As a British Overseas Territory, the Cayman Islands falls under the jurisdiction of the Commonwealth Caribbean. Initially administered as a dependency of the Crown Colony of Jamaica, the islands became an independent colony in 1959. Today, the Cayman Islands is entirely self-governed and politically stable. The World Bank ranks the Cayman Islands in the upper bound of 90% for confidence interval when it comes to political stability and absence of violence as of May 2023.
Diversity
The Cayman Islands has a diverse population. There are over 130 different nationalities who reside and work in the islands. The tourism and service industries attract expats, investors, and workers from around the world.
THE EASE OF THE PROCESS WITH A REAL ESTATE AGENT
Enlisting the services of a local expert with knowledge of the buying process in the Cayman Islands can help you avoid delays and potential issues. An agent can assist you in the following areas:
Registration and title insurance
The Cayman Islands Land Registry maintains a system and database of records that contain a description, history, and ownership of a piece of property while the Land Registry Map contains the boundaries of each parcel of land in the islands.  A real estate agent can assist you with the legal transfer of a given property as well as conduct a thorough review of existing public records.
Restrictions on ownership
Though titles and ownership are a straightforward matter in the Cayman Islands, it is still prudent to work with a real estate agent who can make sure there are no restrictions on property usage. The agent can also determine whether there are any issues with rights of access. A real estate agent can also verify whether the existing structures on the property are located entirely within the boundaries that have been recorded at the Land Registry.
WORK WITH BOVELL TODAY
Discover Seven Mile Beach real estate with The Bovell Team. Call us at +1.345.945.4000 or send an email for more information on luxury condos and beachfront properties. Our team has over 50 years of combined experience in the Cayman Islands real estate market. We give all of our clients a first-class experience with exceptional service and hands-on customer care.
As recipients of the The Luminary of Distinction Award – the top award presented to agents celebrating 20 years with RE/MAX – we are proud to say that over 85% of our business comes from repeat clients. Get unrivaled industry insight and in-depth knowledge of Cayman Islands real estate when you work with Bovell.