The Cayman Islands is well-known for its fine white-sand beaches, romantic sunsets, and luxury tax-free vacations. It's so picture-perfect, in fact, that many tourists who come to the islands find themselves not wanting to leave. Because of this, interest in Cayman Island luxury real estate grew.
One of the most prominent areas in the Cayman Islands for high-end properties worth investing in is the Seven Mile Beach Corridor – an area encompassing Seven Mile Beach, the most popular beach anywhere in this British Overseas Territory. It attracts thousands of tourists yearly, as well as seasoned Cayman Island luxury real estate investors and affluent individuals alike. 
With luxurious amenities now enhancing the dreamy, laid-back island life further, the Seven Mile Beach Corridor is undoubtedly a good choice for taking residence or starting a rental business in Grand Cayman of the lovely Cayman Islands. 
THE MOST PRESTIGIOUS NEIGHBOURHOODS IN THE SEVEN MILE BEACH CORRIDOR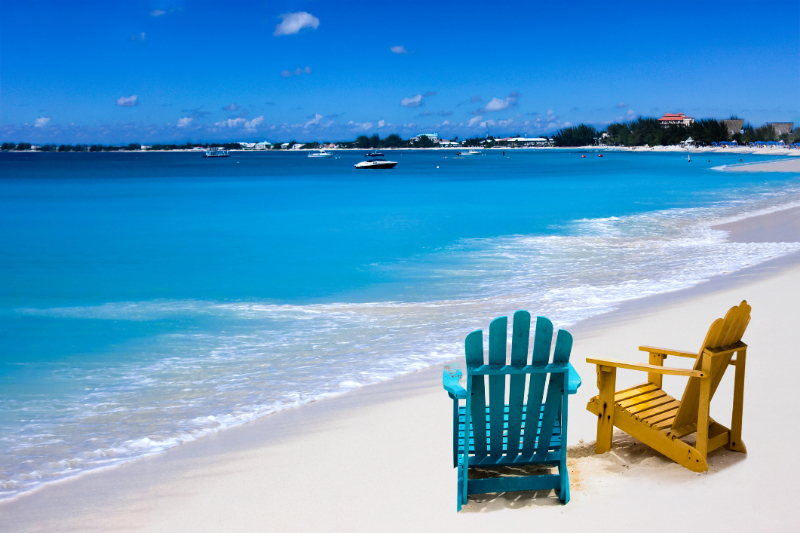 Anyone who desires to live in a place that's almost like paradise will be drawn to the idea of settling in the Cayman Islands. But more than its idyllic allure, the Cayman Islands are also legend for being among the safest places to be in the entire Caribbean region. 
This level of comfort, safety, and security increases further as you enter the exclusive enclaves located in the Seven Mile Beach Corridor. Not only do they serve as safe and gorgeous havens for residents and visitors alike but they also afford easy access to and scenic vistas of the white sands of the beach and the glistening waters of the Caribbean.
Moreover, most of these communities could be found bordering the many canals and waterways of the North Sound, a shallow bay on the western side of Grand Cayman that plays a pivotal role in the island's economy, ecosystem, and tourism. The North Sound's canals snake through the island, opening to the Caribbean Sea.
Here are some of the most prestigious neighbourhoods on Grand Cayman's Seven Mile Beach Corridor.
Crystal Harbour
This private gated community is just a 30-minute walk away from Seven Mile Beach and sits along the North Sound canals. It is also close to some of the best restaurants and golf courses on Seven Mile Beach, as well as George Town on its southern flank. A good number of homes here are mostly custom-built with direct access to the waters via docks, making this neighbourhood ideal for a variety of water activities and a great spot for watching many sunrises and sunsets. 
Crystal Harbour real estate can range anywhere from $1 million to $12 million, depending on the size and amenities included. Home associations in Crystal Harbour also offer community facilities like gyms and pools, access docks, clubhouses, and more. 
Apart from sprawling single-family homes and townhomes, Crystal Harbour also features options for those looking for condos for sale in the Cayman Islands. Given this diverse selection of properties in the area, buyers of various preferences are sure to find one that will fit their lifestyle requirements. 
Salt Creek
Located by the shores of the North Sound, this exclusive gated community is a short walking distance away from Seven Mile Beach. That said, Salt Creek provides wonderful waterfront views and opens up exciting opportunities for active, water-based fun like kayaking and boating. Sprawling homes and properties along the canals are common to see in Salt Creek. Proximity to the thriving mangrove ecosystem makes the area a great place for nature exploration and seeing the local flora and fauna up close. The refreshing sea breeze and the lovely tropical climate add to Salt Creek's allure. 
Apart from being an exclusive enclave teeming with prime waterfront real estate. Salt Creek is where you'll find the Cayman Islands Yacht Club. Residents' privacy and peace of mind are also assured here with security personnel guarding the main gate 24/7. Given these unique facets, it's no surprise that home prices could range from $3 million to $15 million. 
Vista del Mar
One of the most-recognized affluent communities in the entire Cayman Islands, Vista del Mar –also located in the North Sound – has been featured in numerous magazines and TV shows. The neighbourhood is around 10 kilometres north of Owen Roberts International Airport in George Town and also approximately 6 kilometres away from the local shopping, dining, and lifestyle hub, Camana Bay. 
This massive gated waterfront community on the Cayman Islands covers a total area of 52 acres. With this astounding coverage, you're sure to come across several real estate options from stately luxury homes to condo complexes in a number of awesome locations – all with top-tier amenities.
Several detached homes have direct access to the waters and a private dock; 
The villas bring a seamless touch to its living spaces, integrating the indoors and outdoors using open floor layouts and boasting high-end amenities like swimming pools; 
The condos offer a more affordable option but still keep fantastic shared facilities like fitness centres, swimming pools, tennis courts, and marinas for residents; and
Parcels of land by the canals are available to buyers who prefer to build their abodes from the ground up in sizes ranging from half an acre to a whole acre.  
The Yacht Club
One of the newer affluent residential communities on Grand Cayman, The Yacht Club lies right in the middle of the North Sound and the shores of Seven Mile Beach. Home to the Cayman Islands Yacht Club, this neighbourhood offers an upscale nautical lifestyle like no other. You could choose water-based fun by the open sea or the bay and its many canals – either way, you're never too far from the water when you own luxury real estate in this Cayman Islands neighbourhood.
The average price of homes in The Yacht Club is pegged at around $2 million but – depending on their size, amenities, and location within the community – could go higher by as much as $25 million. Detached homes, townhomes, and condos dominate the real estate scene here.
Canal Point
One of the gated residential communities closest to Camana Bay is Canal Point, aptly named for the network of canals within its borders. It's considered to be family-friendly due to the strong ties among its residents, the bevy of local attractions that cater to families, and the overall security and privacy one feels in the community thanks to 24-hour security detail. Just like in other prestigious gated communities along the Seven Mile Beach Corridor, real estate here includes detached homes, townhomes, and condos. 
Nestled within Canal Point is an even more upscale neighbourhood, ONE Canal Point. This gated community contains a series of luxury condo complexes, as well as its own 24-hour security detail. Amenities found here are resort-level, including a swimming pool, tennis courts, a marina, and a clubhouse. From over a million dollars to as high as $2.5 million per unit, ONE Canal Point is a real estate investment worth considering for short-term rentals. 
ABOUT SEVEN MILE BEACH CORRIDOR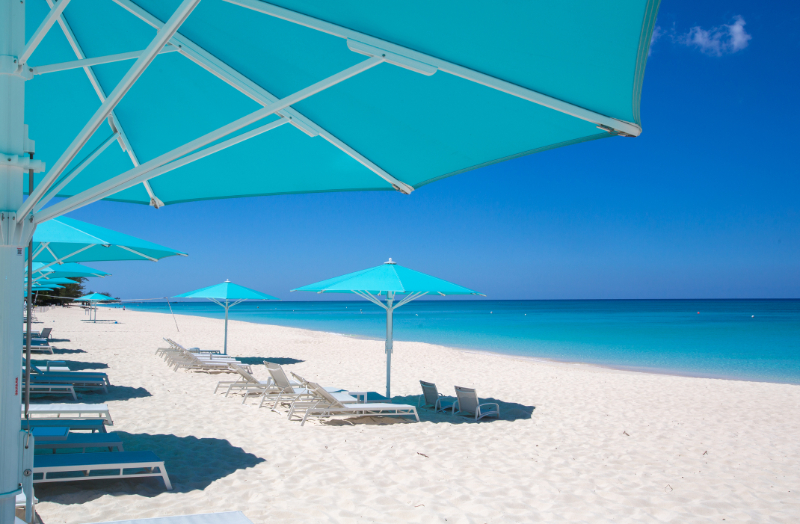 Contrary to its name and popular belief, the Seven Mile Beach Corridor doesn't reach 7 miles; instead, it only extends for 6.3 miles from end to end. Technicalities aside, this long stretch of fine white sand with the waters of the Caribbean Sea sloshing at its fringes has been dubbed by locals as a "water playground." There's simply no shortage of exciting things to see and do along this shoreline. 
Here's what you should know about the Seven Mile Beach Corridor.
Location and biodiversity
The entire length of this beach corridor lies on the western side of the Cayman Islands, from the northern tip of the Governor's Harbour neighborhood to the southern tip of East End.
Apart from being a popular location for Cayman Island luxury real estate, the Seven Mile Beach Corridor is also known for its rich biodiversity.
Along its shores, you'll find native birds like the Grand Cayman woodpecker, osprey, brown pelican, white-crowned pigeon, and many others. 
Turtles like the green turtle, hawksbill turtle, and loggerhead turtle also come to Seven Mile Beach to lay their eggs, which is why the area is considered a protected zone. Overseeing the conservation and education efforts of these majestic creatures is the Cayman Turtle Centre.
Other small reptiles like non-venomous snakes, lizards, and geckos also consider this beach their home. 
Just offshore, manatees would sometimes be spotted swimming by, thus adding to the many local attractions of the beach corridor.
Area highlights
There's something to do for everyone in the Seven Mile Beach Corridor, regardless of age or interest. 
Among the most notable districts on the Seven Mile Beach Corridor is Camana Bay with its bevy of stores, restaurants, and entertainment venues. 
For golf aficionados, the Ritz-Carlton Golf Club – found in the resort with the same name – offers a 9-hole golf course designed by Greg Norman. Short but challenging, this golf course is the best spot for honing your swing. 
For a more complete golf experience, North Sound Golf Club has 18 holes and some of the most awe-inspiring views anywhere in the Caribbean. Apart from its well-manicured fairways, this club has an aqua driving range, pro shop, and open-air bar.
Attractions and activities
If you're looking for natural attractions in the area, you don't have to look too far: the beach is the attraction itself, with its white sand and relatively calm waters.
Off the coast of the Seven Mile Beach Corridor, several dive sites are available for snorkeling and scuba diving. On the water's surface, activities like jet-skiing, parasailing, and stand-up paddleboarding are open to those looking to get their adrenaline pumping. 
East of Seven Mile Beach along a wide sandbar, Stingray City provides a memorable, up-close encounter with – you guessed it – the local stingrays. The sandbar is surrounded by a spectacular reef that is home to these gentle aquatic creatures, as well as other marine life.
The resorts around the island also provide many options for their guests to enjoy what the beach has to offer, from ziplining activities to horseback riding.  
For those who opt for more subdued beachside activities, the Seven Mile Beach Corridor offers you a serene backdrop for sunbathing, reading a book, or enjoying breathtaking sunrises and sunsets. It's also a place for romance, especially since it's considered one of the most romantic dream destinations in the world for weddings and/or honeymoons.
Tax benefits
More than being a mesmerizing tourist magnet, the Cayman Islands also make an attractive spot for real estate investment. This is primarily due to its highly favourable tax environment. Local officials don't see the need to impose income, capital gains, or withholding taxes on the Islands' citizens but there are still other taxes – albeit, minimal –  related to real estate investment (e.g., stamp duty). 
Couple this neutral tax status with the area's political and economic stability and you could have a lucrative investment that promises a regular passive income and more money in your pocket that you could use for more investments, saving up for a rainy day, or letting your family enjoy the high-end lifestyle they deserve. 
INVESTMENT OPPORTUNITIES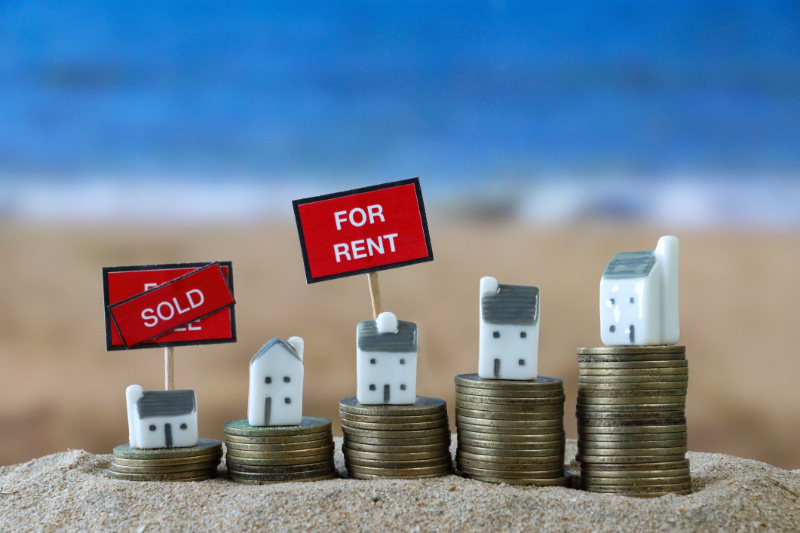 Places like the Cayman Islands rely heavily on tourism because they are already rich in natural resources for capital. But while other tourism-centric states suffer from a lack of sustainability in income generation due to the industry being seasonal, the Cayman Islands enjoy a slew of visitors all year round. This is partly due to the area's tropical climate which keeps temperatures fairly consistent, ranging from 24 to 32 degrees Celsius. Even during the wet season from May to October, rainfall is not as extreme. 
Given the relatively predictable weather in the Seven Mile Beach Corridor and the rest of the Cayman Islands, both locals and tourists get to enjoy more time outside to explore the area and check out what it has to offer. 
And because the number of visitors is sustained regardless of the weather, many business opportunities continue to open up, among which are Cayman Islands real estate investments.
Short-term/vacation rentals
In keeping with the constant waves of tourists coming to the Seven Mile Beach Corridor, you'd do well to invest in short-term/vacation rentals. These provide a more affordable option to the resorts and hotels scattered throughout the Grand Cayman island. 
But if you want to target the well-heeled visitors to the Islands, you'll also want to level up your rental inventory. You could start by finding luxury real estate in the Cayman Islands to convert into rentals which could provide more high-end living arrangements that this niche clientele is used to – as if they never left home.
Vacation properties
Investing in a vacation property along the Seven Mile Beach Corridor for your family's use also has its own perks. While you may not earn passive income from this, you still benefit from the fact that you no longer need to book a room at the hotels in the area anytime you feel like going on a vacation with your family. Amenities could match those you have in your primary residence – a fully stocked kitchen, for example – so you don't always have to eat out and spend more during your visit. In addition, you'll be assured of a place to stay in the Cayman Islands even during peak tourist season – no need to worry about booking in advance or not being able to book at all. 
The best perk of all lies in the opportunity to use your vacation home as a rental whenever you're not using it. That way, you get to enjoy the best of both worlds by having a place you could use for vacation getaways with the family, as well as a lucrative means for passive income generation. 
FIND THE PERFECT SEVEN MILE BEACH CORRIDOR COMMUNITY FOR YOU
The luxury communities along the Seven Mile Beach Corridor in the Cayman Islands offer a premier destination to those with a zest for tropical living amid world-class beaches, scenic vistas, an awesome natural setting, and a plethora of recreational activities to enjoy. 
To get you closer to your dream of finding luxury real estate in the Seven Mile Beach Corridor, allow us – The Bovell Team – to assist you.
Working under the prestigious RE/MAX Cayman Islands brand, our team's depth of knowledge of the local real estate scene will prove to be useful in helping you make informed decisions in your journey toward owning luxury real estate in the Cayman Islands. 
Let our team give you our unwavering commitment to providing top-notch customer care. Call us at 1-345-945-4000 or send your email here.