Although I've touched on this in past articles, given that our borders are fully open and that stayover visitors are returning in record numbers, I thought it would be beneficial to review real estate based paths to residency in the Cayman Islands.
Since our borders closed in March of 2020 at the beginning of the pandemic, our stayover visitors for the last 2 ½ years have become a trickle versus our traditional flood. The good news is that things are turning around. November saw recording breaking numbers as I mentioned in an earlier article and I'm sure the news will be great when official numbers are released by the Department of Tourism for December.
As I've mentioned previously stayover visitors lead to real estate transactions. People come here for the first time, fall in love, and decide they want to buy a second home, vacation property, retirement home or investment property.
Now, after 2 ½ years people who have already been to our islands are able to return, they can experience first-hand the positive changes and new developments that have happened since they were here last, and now may be interested in purchasing real estate.
As the biggest holiday season we've seen since late 2019 and early 2020 comes to a close and the return and first-time visitors have headed back home, many of them to pretty cold parts of the US and Canada, I thought I'd outline the two residency options that the Cayman Islands offers related to real estate investments.
The Government offers two residency options for individuals who purchase real estate in the Cayman Islands.
Residency Certificate for Persons of Independent Means
The Residency Certificate for Persons of Independent Means is valid for 25 years and enables individuals and dependents to reside in Cayman without the right to work. Individuals must invest a minimum of US$1.2 million of which at least half must be in developed residential real estate in Grand Cayman.
Certificate of Permanent Residence for Persons of Independent Means
The Certificate of Permanent Residence for Persons of Independent Means is where the holder and qualifying dependents have lifetime rights to reside in the Cayman Islands without the right to work. Individuals must invest a minimum of US$2.4 million in developed real estate in the Cayman Islands. This option also offers a path to naturalization as a British Overseas Territories Citizen once the applicant has been legally and ordinarily a resident in the Cayman Islands for five years.
With respect to the two residency options above, there are other requirements which must also be met, which I can easily walk you through if this is of interest.
With respect to properties purchased, there is no obligation to live in the property. It can be purchased as an investment. Similarly, people can purchase one or more properties to reach the minimum investment threshold and there is no limitation on the choice of property, unlike in similar programs around the world.[i]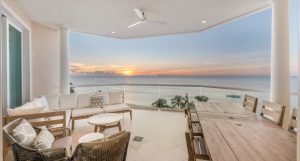 WaterColours Seven Mile Beach, Rare South Corner Unit
Cayman Islands Residency by Investment Summit
Recently at the Kimpton Seafire Resort, a summit was held focusing on what "service providers called…one of the migration industry's best-kept secrets."[ii]
Obtaining residency rights, and ultimately a second passport, is no longer just a business or wealth management tool but has increasingly become a lifestyle choice for high-net-worth individuals, not least since the COVID pandemic brought travel restrictions to North America, Europe and much of the rest of the world.[iii]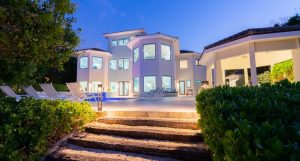 Chiaro di Luna Waterfront Estate in exclusive Vista Del Mar
Since early in the pandemic, the Bovell Team has been first-hand experience with this migration to the Cayman Islands with people using the residency options associated with real estate purchases. From high net worth individuals to people looking for a safe harbour or second home to many people deciding to retire early, we have facilitated purchases and moves for numerous people and families over the last few years. Our population growth over the last few years also attests to this migration.
At the Bovell Team, we pride ourselves by helping our customers every step of the way not only with their real estate transactions but with many aspects that surround the purchase of property in the Cayman Islands including immigration, banking, schools, healthcare, mortgages, travel, temporary accommodations, shipping and all the way down to suggesting some great restaurants and beaches.
So, give us a call at +1 345 945 4000 with any questions about how you could make the move and call the Cayman Islands home.
[i] Cayman Compass, January 19, 2023
[ii] Cayman Compass, January 19, 2023
[iii] Cayman Compass, January 19, 2023