As we close out 2022, I thought I'd look at where the Cayman Islands real estate market stands as of today, although I will do a comprehensive review once all the year-end numbers are in at the beginning of January. I also thought I explore some new developments that will affect the Cayman Islands in the future and touch on how things are slowly getting back to normal and how this effects specifically construction.
Cayman real estate market as of today[i]
We all know that visitors have been slow to return to our islands for most of the year, but the reality is this hasn't impacted the real estate market in the Cayman Islands. Our numbers this year are strong and could be as strong as our record-breaking year in 2021.
As of the end of November, the real estate market in the Cayman Islands hit another milestone. The value of active listings as of November 30th has hit US $3 billion in the first time in our history. This consists of 1,582 active listings.
Additionally, as of mid-December we were sitting at $972,230,658 in sold volume. Although this is down from $1,084,760,978 for all of 2021, this is very positive considering 2021 was a record-breaking year. We still also have two more weeks of data to analyze before we can truly see how our year-over-year performance ended up.
This is very encouraging especially considering visitors were slow to return to Cayman due to our slow and on-again, off-again re-opening plan which saw a lot of visitors who normally come to visit our islands take trips to other tropical destinations.
The good news is that tourism numbers are looking great and above projections for Q4 2022.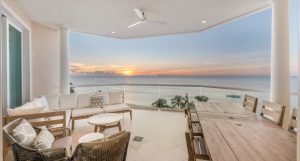 WaterColours Seven Mile Beach, Rare South Corner Unit
Tourism gets back on track
As I've mentioned in previous articles visitors are returning to our islands. In November stayover tourist numbers were not surprisingly the highest of the year, with 34,118 people flying to our islands.[ii]
This brings the total of number of stayover arrivals between January and November to 236,348, which equates to 53% of 2019's total arrival numbers.[iii] This exceeds the target of 40% set by the Ministry of Tourism earlier in the year. Minister of Tourism, Kenneth Bryan stated "for the last quarter of this year, air arrivals are running close to 90%" of the monthly in 2019. This is great news for the Cayman Islands.
In October, national carrier Cayman Airways said not only had it surpassed its pre-pandemic passenger numbers for a single month, it also hit a record monthly high, flying more than 31,000 people into Cayman in October this year.[iv]
"Cayman Airways transported over 31,000 passengers in October – breaking above 30,000 for that month for the first time in our airline's history," said Paul Tibbetts, executive vice president of finance and commercial affairs at Cayman Airways.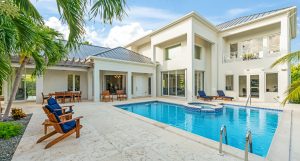 Casa Blanca, Canal Front, Yacht Club Residence
Paving the way for more visitors
On November 24th the Cayman Compass announced that the Cayman Islands government is considering extending the Owen Roberts International Airport's runway 1,000 feet into the North Sound. A consulting firm has already presented the airport proposal.
The runway extension is a priority for the government to enable larger aircraft, capable of long-haul flights from all over the world, to land here. They cannot do so right now because the runway is too short.
"Bryan said Saudi Arabian Airlines (now Saudia) and Virgin had both considered adding Grand Cayman to their routes, but the runway length had made them reconsider because their wide-body jets cannot touch down at Owen Roberts."[v]
Inflation and construction
As I've touched on in previous articles, rising costs directly related to construction has impacted our market especially with respect to new developments and continues to do so today.
CBRE's new Construction Cost Index forecasts a 14.1% year-over-year increase in construction costs by year-end 2022 in the US as labor and material costs continue to rise. Escalation should stabilize to the 2%-4% range in 2023 and 2024, on par with historical averages.
The ongoing supply chain-related disruptions that emerged at the beginning of the pandemic and are still occurring in several areas today should begin to ease, but ongoing global labour and component shortages will hamper production and logistics capacities. As a result, long lead times and material shortages will likely continue in the short term.
A 90% year-over-year drop in ocean freight rates for cargo from China bound to the U.S. West Coast[vi] will definitely help in the reduction of supplies needed in construction as well as many materials coming to the Cayman Islands.
Cheers to you all
As we get ready to welcome in the new year, I wanted to take the opportunity to thank all my clients and customers for their continued trust and support over my 30+ years in the Cayman Islands real estate industry. I truly value not only your support but the friendships I've built along the way which makes doing what I do so enjoyable.
To all my clients, customers, friends, family, co-workers, and of course, you readers, I hope you are truly enjoying these holidays with friends and family.
Cheers to you all and here's wishing you all the best in the new year.
[i] All data from CIREBA and in USD
[ii] Cayman Compass, December 15, 2022
[iii] Cayman Compass, December 15, 2022
[iv] Cayman Compass, November 30, 2022
[v] Cayman Compass, November 24, 2022
[vi] CNBC, December 7, 2022