With only 102 square miles over all three islands, the Cayman Islands, as we already know, is not that big of a place. Grand Cayman is approximately 22 miles long with its widest point being 8 miles. The elevation ranges from sea level at the beaches to only 60 feet above sea level on the North Side's Mastic Trail. The total coastline is only 99.4 miles.
The reality is there is a finite amount of land in the Cayman Islands. Unlike many other markets we cannot expand further and further into the suburbs because at some point you'll hit water.
What's more important is there is only so much land on the water. Unlike more mountainous Caribbean countries such as Antigua and Jamaica, the Cayman Islands are very flat. This means that in Grand Cayman for single family homes there are only views of the ocean from oceanfront land versus land that is further island.
We don't have hills that homes can be built upon that would have views of the ocean making available oceanfront lots extremely valuable not only today but more importantly in the future as more and more oceanfront land is purchased and developed upon.
Maybe your goal is to build your dream home, retirement home or second vacation home on the ocean in the Cayman Islands, but you aren't ready either financially or logistically to do so. The good news is that if you can purchase the land now prices are undoubtedly cheaper than they will be in the future as raw oceanfront land becomes less and less available.
Coupled with that there are no imposed requirements to develop land (excluding subdivisions which do have covenants) within a stipulated timeframe. Consequently, parcels can be held indefinitely, with little or no expense, for future use or speculation.
Given that the total coastline for all 3 islands in the Cayman Islands is only 99.4 miles it is not surprising that oceanfront land is at a premium especially in Grand Cayman. When lots that are for sale are gone…they are gone.
I thought I'd take this opportunity to share a few outstanding pieces of oceanfront land that the Bovell Team currently has listed for sale.
300' of Beach, Frank Sound perfect for estate, resort, or development site (CIREBA MLS 413920) is a rare, stunning 2.42 acre parcel that offers a multitude of development opportunities. Featuring 300' of south facing beachfront with a continual breeze from the southeast, this property is zoned Low-Density Residential and can accommodate up to 58 bedrooms, 36 condos or apartments, 4 duplexes, or a private estate home with a large home, pool, tennis court, guest houses and more. This listing is priced at US $3,995,000 which is $37.90 US per sq. ft.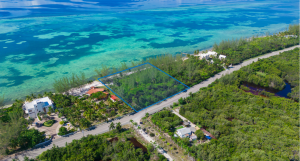 Over 300' of stunning white sand beach plus the site depth is 350' creating good separation from the road.
Pease Bay beachfront development parcels (CIREBA MLS 413207) is a rare, 0.97 acre parcel with over 200' of ocean frontage in the lovely neighbourhood of Pease Bay in Grand Cayman, Cayman Islands. Featuring a depth at over 190', this double parcel is large enough for an estate home offering an expanded footprint, room for a tennis court, pool, privacy, and more. With warm Caribbean breezes, this uniquely placed lot captures both radiant sunrises and stunning sunsets. This listing is priced at US $1,800,000 or $42.60 per sq. ft.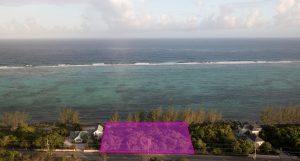 Zoned Beach/Resort Residential zoning which would allow 20 units/60 bedrooms.
Rum Point beachfront parcel (CIREBA MLS 414502) is a very rare opportunity to purchase a stunning, elevated 0.79 acre estate-sized beachfront parcel with 106' of beach frontage in Grand Cayman, Cayman Islands. What makes this lot so different and special is that it very quickly becomes elevated to 16' above sea level offering the best protection from sea surges and damage. It slopes back from this ridgeline to the road which is still some 8' above sea level.
The topography changes quite rapidly and there is Ironshore and rock that comes through the site offering commanding views looking over the beach, sheltered water behind the reef, and out to the deep blue waters beyond. This listing is priced at US $1,795,000 or $52.15 US per sq. ft.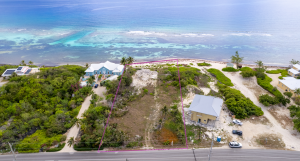 Enjoy offshore breezes from this north facing parcel that is only 5 minutes away from Cayman Kai.
The numerous communities throughout Grand Cayman with canals also provide water views although not direct oceanfront. Crystal Harbour canal lot with golf course views (CIREBA MLS 415102) touts 102' of waterfront and is a large 0.40 acre parcel in the sought after area of Crystal Harbour surrounded by multi-million dollar homes. It features great views of the 14th fairway of the North Sound Golf Course as well as the expansive canal basin. This lot is priced at US $999,990 and is $56.89 US per sq. ft.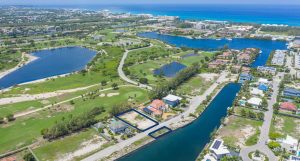 This lot has been filled and sea walled and is walking distance to The Ritz-Carlton and Seven Mile Beach.
If you are interested in land in the Sister Islands, we just listed a waterfront parcel in Little Cayman (CIREBA MLS 415945). This northeast facing lot is 0.53 acres has 116' of ocean frontage and is in the quietest, most peaceful and exclusive part of Little Cayman with cinematographic views of the reef protected waters and of Cayman Brac and its lights. This lot is priced at US $575,000 and is $24.78 US per sq. ft.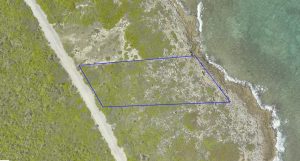 Oversized lot has 18' elevation and offers breathtaking views and spectacular daily sunrises.
These are just a few examples of waterfront land that are currently available for sale in the Cayman Islands. If you are looking for something in particular, be it in a certain location or a specific size or in a set price range, please do not hesitate to reach out to us at +1 345 945 4000 or visit our website. We are here to help and answer any questions you may have.
To catch up on the entire real estate market in the Cayman Islands please take a read of our Q1 2023 market overview.