On Saturday, November 20, the Cayman Islands borders officially opened, and we are welcoming back guests from far and wide to enjoy our tropical weather, white sand beaches, crystal clear blue waters and so much more.
As I've received several enquiries from clients and customers asking about how people can begin to visit the Cayman Islands again, I thought I'd provide a quick overview of the current and upcoming flight schedules, as well as the process and requirements necessary to visit our islands and what you will need to do during your stay.
Welcome back
Back on March 22, 2020, travel ground to a halt as the Cayman Islands closed its borders. Who would have thought back then that it would take 20 months for the borders to reopen?
We are anticipating visitor numbers to slowly increase throughout the 4th quarter and into the next year. There are numerous factors which contribute to this. After months of not being able to travel, many of our usual visitors booked holidays especially over US Thanksgiving and Christmas in advance of our government's announcement of the opening plan. Additionally, and probably the most important factor is that airlines, which need several weeks if not months to ramp up, are slowly adding back in flights to the Cayman Islands. And lastly the fact that, as of today, unvaccinated children still must do a 14-day quarantine has meant that many families are traveling elsewhere.
Inbound airlines and departure cities
As of today's date, here are all the airlines, departure cities, start dates and frequency for flights coming into the Cayman Islands.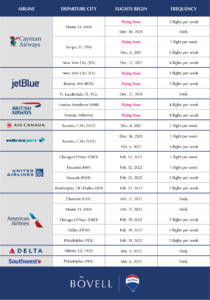 As you will see we currently have 6 departure cities with direct flights into Grand Cayman but as we move closer to Christmas more inbound flights and destinations are being added with many more in the coming new year.
As of today, there are 16 inbound weekly flights arriving in the Cayman Islands. By the end of December this will expand to 33 and by the beginning of March we should we almost back to where we were during high season pre-COVID with 75 flights coming in on a weekly basis.
Phase 4
As I outlined in a previous article, the opening on November 20 marks our move to Phase 4 of our reopening plan.
All vaccinated travellers (securely and non-securely verifiable) are allowed into Cayman.
Quarantine requirements are now lifted except for non-securely verifiable vaccinated travellers who are travelling from a country with a vaccination rate below 60% for the first dose of the vaccine (10 days) and 14 days quarantine for unvaccinated adult travellers and travel parties with unvaccinated minors.
A pre-arrival PCR test is required within 72 hours prior to your travel date for all travellers aged 5 and older.
Travel Declaration or Travel Request
Every person coming to the Cayman Islands must visit Travel Cayman and apply for a Travel Declaration or a Travel Request.
Travel Declaration
This is WAY faster than it sounds, maximum 5 minutes and it was easy to complete.
A friend I know from Canada just completed the process. She was immediately issued a travel declaration, which is good for 3 months, allowing entry into Cayman. This means that all Canadians with the Canadian federal COVID-19 Proof of Vaccination, which includes a SMART Health Cards QR code are securely verified travellers.
There is a question about travel insurance wherein you need to choose one of two options. Option one states you have health insurance that covers COVID-19 related medical care, extended accommodation costs and repatriation flight costs. Option two states that you don't have COVID-19 health insurance but understand that you are liable for full costs related thereto.
A Travel Declaration is a Certificate to Travel issued by Travel Cayman when secure verification of vaccinated travellers is successful. You can apply for a Travel Declaration if you fulfill all the following requirements:
Have been fully vaccinated against COVID-19 at least 14 days prior to the date of arrival in the Cayman Islands.
Have taken a full course of one of the WHO approved vaccines
Hold a digital copy of a securely verifiable vaccination with a unique QR code or a vaccination record
Meet the Cayman Islands Phase 4 entry criteria and regulations
The process is quite easy for a travel declaration.
Step 1: Create travel declaration and add traveller's details
Step 2: Upload the vaccine certificate
Step 3: Download travel declaration
Travel Request
A Travel Request is an approval process that requires travellers who are subject to quarantine requirements as per Phase 4 entry criteria and regulations to apply and obtain clearance to travel from a Travel Cayman authority.
You will have to apply for a Travel Request if you are travelling with at least one individual who is:
Not securely verifiable
Not vaccinated
Subject to quarantine requirements as per Phase 4 entry criteria and regulations
The process is also quite easy for a Travel Request as well.
Step 1: Add your details
Step 2: If you are travelling with other people, add travellers
Step 3: If you are quarantining at a residence, add other occupants if applicable
Step 4: Create travel requests
Lateral flow tests – day 2, 5 and 10
Travellers who are not required to quarantine are to undergo a lateral flow test on Days 2, 5 and 10 (3 tests in total). The arrival day is considered day zero. Upon arrival, each incoming traveller will be issued with a Rapid Antigen Testing Card by Customers Border Control. Upon each lateral flow test administered, this card is required to be certified. The costs of any COVID-19 testing undertaken to comply with Regulations regarding travel remains the responsibility of the traveller, which is CI$25 (US$30) per test. More information can be found here.
A list of lateral flow test providers can be found here.
Keep in mind the list of lateral flow test providers is expanding daily with the hopes of adding hotels in the near future.
It is recommended that you keep this card on you as hotels and other hospitality providers may require quests, for example, to present this card before allowing entry to high traffic areas such as restaurants and pools.
Caymankind
Since the beginning of the pandemic and continuing today, the definition of "home" has changed from simply a place to live that's close to the office. The global pandemic, subsequent rising taxes and growing income uncertainty have impelled many people to seek sanctuary in countries like the Cayman Islands which is tax neutral, has a sound economic and financial structure, as well as a high standard of living.
What made Cayman so unique and special when you may have last been here over 20 months ago hasn't changed. We are still regarded as one of the safest islands in the Caribbean and are a world-class country that is both beautiful and secure featuring spectacular scenery, a tropical climate, privacy, and stunning beaches.
In fact, some may argue that during the last 20 months that Cayman has gotten even better. We have several new restaurants to experience, new shops to explore and The Ritz-Carlton which has been closed for almost 6 months now, is just finalizing US $50 million in renovations. Plus, there are numerous new developments that are now in development including The Watermark, Aqua Bay and Lacovia, all on Seven Mile Beach.
From the Bovell family to yours it is great to finally welcome you back to Cayman.