As I've discussed in previous articles, our borders opened on November 20, 2021, and visitors began returning to our islands. Effective January 20, 2022, the Cayman Islands moved into Phase 5 of the National Border Reopening Plan. I thought I'd take the opportunity in this article to discuss the specifics outlined in Phase 5, new additions to inbound flights, as well as discuss how my initial projections regarding the border opening in November would impact real estate and how in fact these were a bit off.
Phase 5
In Phase 5, children aged 11 and younger will assume the vaccination status of their adult travel companions, allowing them to travel to the Cayman Islands. This is great news for our islands and long overdue. Visitors aged 5 and over are required to take a pre-departure test, either a certified rapid test/lateral flow test (LFT) or PCR test, no earlier than the day before their departure.
As in Phase 4, fully vaccinated travellers (adults and children) can enter without having to quarantine if they are travelling from a country with vaccination rates that are 60% or higher for the first does of the vaccine and where those travellers spent at least 14 days prior to the date of travel. These countries include the United States, Canada, and the UK.
Unvaccinated visitors (age 12 and over) are not able to travel to the Cayman Islands currently unless that visitor has a close tie to the Cayman Islands. A close tie is considered anyone who can demonstrate that they own a business or property in the Cayman Islands or has a close family tie. A family tie is anyone that is the spouse, civil partner, sibling, parent, stepparent, grandparent, grandchild, child or stepchild of a Caymanian or Resident.
Inbound travellers (age 5 and older) will be required to get lateral flow tests at an approved provider on days 2, 5 and 7.
All travellers are still required to apply to the Travel Cayman portal for an official Certificate of Travel by requesting a Travel Declaration.
New flights
The good news is that additional flights are heading to Cayman including from both new airlines and new destinations. On February 17th, much earlier than was originally reported, American Airlines will return to Grand Cayman as the first US carrier since our borders were closed in March 2020. This flight is between Miami and Grand Cayman daily except Saturdays which have 3 flights. On March 5 they will resume service from Charlotte, North Carolina.
Here is a full list of inbound flights issued by the Department of Tourism as of February 1, 2022.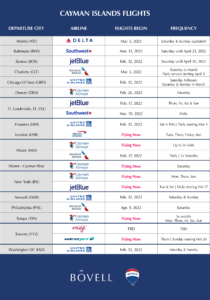 The borders opened but tourists were limited
Anyone who was in the Cayman Islands over this year's Christmas holidays could immediately see we that we had nowhere near our usual visitors for what has traditionally been the busied time of the year for tourism.
The fact that children couldn't travel without the entire family having to quarantine meant that families went somewhere else for their Christmas holidays. Additionally, with the very limited number of flights coming in there were very few options to travel here.
One thing that I don't think many of us took into consideration when our borders opened was the fact that many of the seats were taken up by family coming to see their loved ones many of whom they hadn't seen for almost two years. This meant that the seats available on planes for visitors looking to holiday here were even more competitive.
Another factor which undoubtedly contributed to few visitors were our residents were now able to fly home without having to quarantine on the way back. Therefore, even if tourists could get here many of the return flights were sold out especially over the Christmas holidays.
Tourism numbers today and in the future
There is some discrepancy with respect to how many people "visited" Cayman in 2021. In an article published in the Cayman Compass on February 4, 2022, Deputy Governor Franz Manderson stated that "since the unlocking of the borders on 20 Nov…34,000 people have visited Cayman". He further went on to say that "last year we had 45,000 for the full year."[i]
These numbers are greatly different than what the official Cayman Islands tourism site (www.visitcaymanislands.com) is reporting. The site states that in 2021 there were a total of 17,308 air visitor arrivals and for November and December that number was only 9,659.
Regardless, these numbers are extremely low, which is understandable. For example, in 2019 there were 92,651 air visitor arrivals in November and December and 502,739 for the entire year.
In an article published in the Cayman Compass on February 8, the Department of Tourism stated it is aiming to reach 40% of 2019's stayover tourism levels, which equates to between 175,000 to 200,000 visitors.[ii]
While these numbers don't seem that high compared to 2019, the reality is Cayman is not alone. According to the World Tourism Organization, international tourist arrivals (overnight visitors) in 2021 were still 72% below the pre-pandemic year of 2019.[iii] The good news is that the subregion with the best performance in 2021 was the Caribbean at only 37% below 2019, which means people are looking for warm, tropical vacations.
Unfortunately, in 2021 most of those visitors went to other Caribbean countries many of whom had opened their borders in the Summer, didn't require quarantine and welcomed unvaccinated children which were key for families.
According to the World Tourism Organization's panel of experts, 58% expect a rebound in 2022, mostly during the third quarter and 42% point to a potential rebound only in 2023 with a return to 2019 levels only in 2024 or later. Based on these numbers tourism will be affected on a global basis including the Cayman Islands for several years.
Real estate projections slight off from last year
In previous articles I indicated that, as in the past, many new visitors would become new real estate buyers in the Cayman Islands once our border opened. Don't get me wrong, there have been new buyers buying real estate in the Cayman Islands some to relocate here, some as second "safe haven" homes and others as investments, but the numbers were not as large as they have been in past or that I projected.
As mentioned above, there are many factors that have contributed to this such as limited flights, flight availability due to family and residents traveling, as well as the fact that unvaccinated children were unable to travel without quarantine with their families.
The fact that our government didn't follow through on its original opening plan had an impact on our tourism numbers in 2021 and one could argue that this could have long term repercussions. People did travel to the Caribbean in 2021 but they didn't travel to the Cayman Islands.
Many people who usually come to Cayman or wanted to come here went somewhere else and if history tells us anything as we've seen with hurricanes effecting other islands in the past, once many people visit somewhere else, fall in love with that country, they will continue to travel there, and many will eventually buy property there.
Real estate's record year
As outlined in my previous article, the Cayman Islands had a record-setting year in 2021 with $1.054 billion in sales. This figure was derived from CIREBA data, which doesn't account for every real estate transaction in 2021 including those done directly with developers or private sales.
According to figures from the Lands and Survey Department, as reported in the February 8, 2022 issue of the Cayman Compass, $1.43 billion in real estate transactions in 2021 brought in $121.9 million in government revenue from stamp duties and fees. Income for stamp duties on land transfers along was $104.3 million more than double the budgeted amount of $45 million. The 2,983 freehold transfers in 2021 were 44% more than the previous high set in 2018.[iv]
Where do we go from here?
After a record-breaking 2021, we have already seen a slowdown in the number of real estate transactions which began in September 2021, but I believe this is primarily driven by the lack of inventory which is at the lowest level in years. Things should start to build in the next 30 to 60 days. The reality is it will be extremely hard to beat 2021's numbers when it comes to transactions. We had such a boom from March through August 2021 that those numbers will be hard to beat.
What will keep climbing will be prices. Property prices are continuing to rise globally not just in the Cayman Islands and with even less inventory these prices should continue to rise. This is compounded by the fact that the number of buyers keeps increasing as new buyers find out about Cayman and all of its benefits.
Even with low inventory there are still some incredible listings on the market including The Watermark and Aqua Bay on Seven Mile Beach, outstanding homes such as Casa Bella in Crystal Harbour and Seaview Road Beachfront Home in the heart of Frank Sound on the South coast and land in Crystal Harbour to build your dream estate home.
In closing, after almost 2 years it is great to finally have our borders fully open and to see airlines returning from the United States from multiple destinations. The Cayman Islands are still the same safe, tropical paradise they always were. From our tax neutral status to our high standard of living to our outstanding lifestyle and everything in between, our islands offer visitors and potential property owners something you'd be hard to find almost anywhere else. Come, visit and try Cayman for yourself.
[i] Cayman Compass, February 4, 2022
[ii] Cayman Compass, February 8, 2022
[iii] UNWTO, January 18, 2022
[iv] Cayman Compass, February 8, 2022