As the central banks on a global basis continue to bring inflation under control by raising interest rates, I thought I'd take this opportunity to explore how interest rates and inflation are connected, where inflation and interest rates stand today, and how all of this is affecting the Cayman Islands real estate market.
How are interest rates and inflation connected?
Higher interest rates encourage saving and discourage borrowing and, in turn, spending. In response, companies increase their prices more slowly or even lower them to encourage demand. This reduces inflation. Lower interest rates work in the opposite way and can help increase inflation if they are too low.
Inflation and interest rates tend to move in the same direction because interest rates are the primary tool used by central banks on a global basis to manage inflation.
For this article, I will be focusing on US monetary policy controls with respect to inflation as our interest rates are directly tied to the US Federal Reserve.
How does monetary policy control inflation?
We all know that inflation is high although we are seeing some relief in this area. Here is a map that was published in February of this year showing inflation around the world.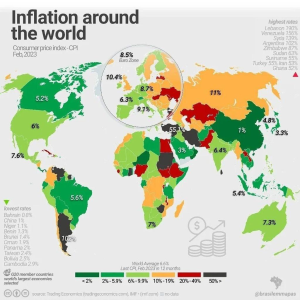 We know it when we go to the gas station, pay our CUC bill, do our weekly grocery shop and basically everything in between but I think many people wonder why we fight this with higher interest rates.
When the economy is overheated and inflation is well above 2%, which is the ideal year-over-year benchmark, higher interest rates help steer inflation back to the 2% target. Higher interest rates make borrowing more expensive, and by that fact discourages borrowing (mortgages, car loans etc.). Less borrowing means lower demand for housing and for goods and services. Lower demand overall allows supply to "catch up".
What caused the inflation spike and where are we today?
The global pandemic sparked a unique global challenge – inflation. When the world shut down during the pandemic, the globe stopped spending. In fact, inflation fell so steeply during this time it was below zero. We could no longer travel on vacation, dine out or buy many items that we usually could due to factory and shipping slowdowns, but there were areas that just continued to boom including real estate.
But we didn't stop spending entirely. There was a huge shift in how consumers spent their money during the peaks of the pandemic. Households shifted their spending from in-person services to durable goods, straining global supply chains that were already disrupted by the pandemic. Shipping bottlenecks, lack of shipping containers and shortages of key components led to long delays for goods like cars and appliances and we all know that high demand and low availability leads to higher prices.
Then the world reopened and the demand for goods and services on a global basis, which was already stressed, was running way ahead of the economy's ability to supply them. What started as higher prices and delays for many international produced goods including construction materials which I outlined in an article in late 2021 has broadened to many services.
Global manufacturers report that delivery times are still longer than usual, but they are getting shorter, and input cost pressures are easing. Global shipping costs have also come down from exceptional highs.
As of February 28th, the US Inflation Rate sits at 6.04%, compared to 6.41% in January a 5.84% decrease and 7.87% last year. In fact, the US Inflation Rate has been slowly decreasing since a high of 9.05% in June of 2022. This is great news, but inflation will not go back to normal overnight.
Interest rates in the Cayman Islands
On March 22nd the US Federal Reserve enacted a quarter percentage point interest rate increase. This in turn raised interest rates in the Cayman Islands which are pegged to the US. This was the 9th hike since March 2022, but the US Federal Reserve suggested that hikes are nearing an end.
On March 23rd Butterfield announced that in step with the recent increase in the US Federal Funds Rate, they have adjusted their Prime Rate for US and CI dollars lending for residential mortgages, consumer loans and corporate loans. The US and CI dollar prime rates for residential mortgages, consumer loans and corporate loans increased by 0.25% to 8.00% effective March 24, 2023.
How are increasing interest rates effecting the real estate market?
In the US new home sales data indicates more buyers are returning to the market. Home sales prices fell year-over-year in February—the first time in nearly 11 years—and total home sales saw their largest monthly percentage increase since July 2020. However, many economists remain mixed about how much more home prices will drop this year.[i]
For one, the US's housing supply remains limited. Those who purchased homes in recent years at record-low interest rates are staying put. Tight inventory issues, in part, are also keeping prices from dropping off, which is perpetuating affordability challenges for many, especially first-time homebuyers.[ii]
Refinancing in the US has basically come to halt in the US. In the US, though home prices remain high year-over-year, they're not as eye-popping as they were in early 2022. Even so, how much further home prices dip in 2023 will likely depend on where mortgage rates go.
In the Cayman Islands, as I've touched on in previous articles, we are not seeing property prices fall, which is primarily driven by on our ongoing low inventory and high demand. The high demand is coming from a few areas. There are people relocating to Cayman for work, people moving for retirement and those seeking permanent residency which puts pressure on real estate sales as well as the rental market.
Right now, we have 1,531 active listings on the market, which is the lowest we've seen since October of 2022 even though more than 584 listings have come onto the market between November 2022 and March 2023.
The number of sold transactions, along with the ongoing decrease in inventory, indicates that increased interest rates are not having a massive impact on the Cayman Islands real estate market to date.
One thing we need to consider is that a large percentage of homeowners with mortgages in the Cayman Islands have adjustable rate mortgages. What is interesting is that banks in Cayman are now offering fixed rate mortgages to help stabilize things, which is worth looking into and may be the best option in some cases for those who are on fixed salaries. It is better to know what your ongoing costs are especially in these uncertain times.
As I've discussed in a previous article, the impact of increasing interest rates is undoubtably having an affect on many homeowners. The question is how long can they maintain the increase. Undoubtedly there will be homeowners that cannot afford these increases especially if they last for quite some time. This will lead to people having to potentially downside.
People are still buying property across all price points and prices are continuing to increase although I would be remiss to omit that the number of sold transactions we are seeing in the market has decreased year-over-year.
As we close out the first quarter of 2023, it will be key to examine how the market is performing year-over-year as well as quarter-over-quarter to get a better understanding of the Cayman Islands real estate market. Please keep a look out for my next article, which will be released in about two weeks, for a full analysis of the marketplace.
The real estate market is definitely in a transition right now not only here but on a global basis as we all grapple with the impact of rising interest rates and ongoing high inflation. Things are changing, adjusting, and getting back to a "new normal" but I think that can be said by almost everything with respect to the global economy not just the real estate market.
If you have any questions or would like more information on real estate in the Cayman Islands, please do not hesitate to reach out to me or my team at +1 345 945 4000.